 Good morning, Husky fans. It's been a while since our last link drop, so I'll fill this one to the brim. Make sure to scroll to the bottom for a little bit of self promotion, too (trust me, it's good stuff!).
ESPN's Kevin Gemmell says the best Pac-12 road trip for Week 1 is to venture to the opening of Husky Stadium and see the Huskies face Boise State.
This first one is a no-brainer. While Northwestern at Cal is certainly interesting — as is WSU at Auburn (we love those Pac-12/SEC matchups, even if both teams combined for all of six wins last season) — a rematch of last year's MAACO Bowl Las Vegas is just too delicious to pass up.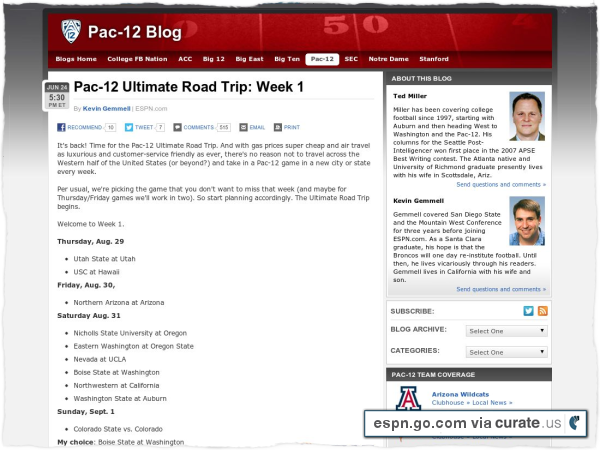 According to a 10-year study, Lorenzo Romar and the Huskies are the best at turning high school talent into NBA draft picks.
The chart below lists our efficiency rankings for the Pac-12 (for more details on our methodology, please click

here

). The University of Washington was the clear leader in the Pac-12 in converting talent into NBA draft picks.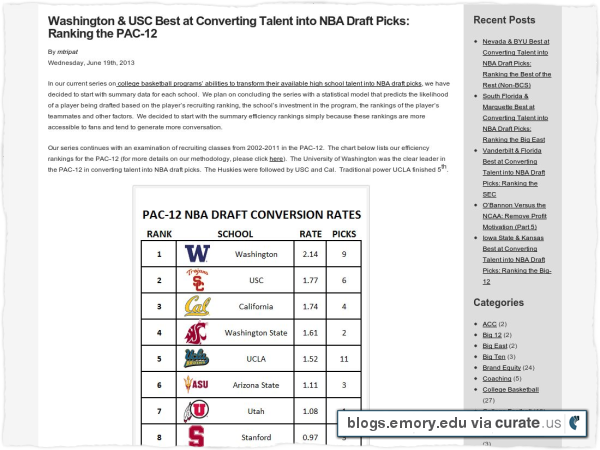 There were a handful of recruits taking unofficial visits at the Alumni Game last weekend. Kevin Cacabelos (whom I sat next to at the game) recaps who all was there.
The UW coaching staff is also showing interest in Tristan Etienne (Forward 2014) from British Columbia, Canada…Etienne said he had a "good time" and said the environment was "amazing."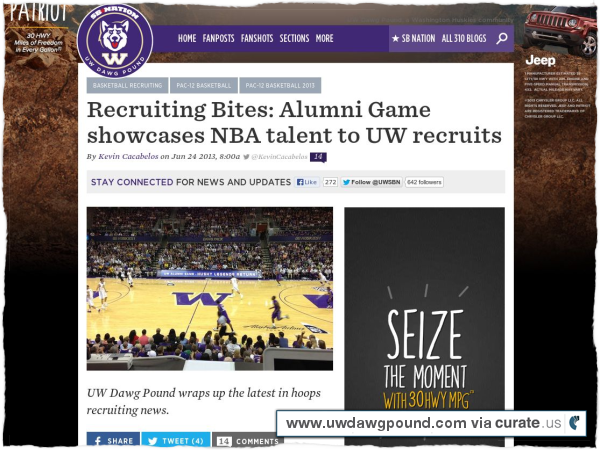 Todd Dybas writes that the two new additions to Romar's staff have high expectations for their tenures at UW.
Assistant coaches are often viewed through the same lens as baseball prospects or backup quarterbacks. If a team is less successful after they leave, fans will point to their departure as the reason. Around modern Washington men's basketball, this is known as Bone-Dollar Syndrome.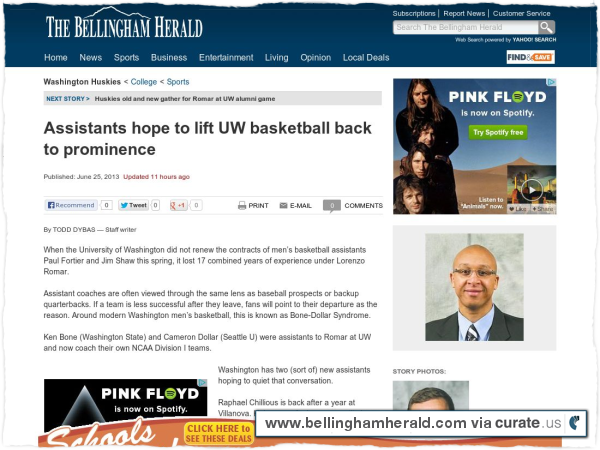 Ok, and finally, my self promotion. I got the chance to catch up with former ASU third baseman Michael Benjamin. He was drafted by the Rockies in the 13th round in this year's draft. It will be my first piece that is actually, literally printed.
The adjustment from college to the pros can cause trouble for many players, and Benjamin said he knows there is still a lot for him to learn.

"(It's) kind of like going into college and being a freshman again. There are just new things you've got to learn," he said. "The game is still the same, but as far as everything else goes, it's a little different."