 Good morning, Husky fans. 11 days until the Alumni Game. 80 days until opening night at Husky Stadium.
Ted Miller likes the chances that the Huskies' offense rebounds next year. So do the readers, as UW got about 45 percent of the poll vote, as well.
We've already offered our take: While all five appear to have key ingredients for improvement this fall, Washington and Washington State both seem poised to make the biggest jump. And, yes, while our faith in the Huskies is based in returning talent and experience, our belief for the Cougars is firmly rooting in our belief that you just can't keep a Mike Leach offense down.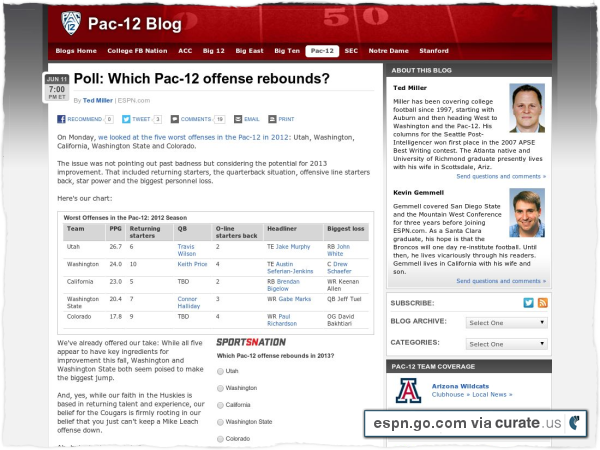 A factor that could help UW's offense return to form in 2013 is its returning offensive linemen. They rank fourth in the Pac-12 in starts from returning players.
As is evident, two other teams that UW will have to contend with in the Pac-12 North this season — and play on the road — can boast of having slightly more experienced lines in Oregon State and Stanford.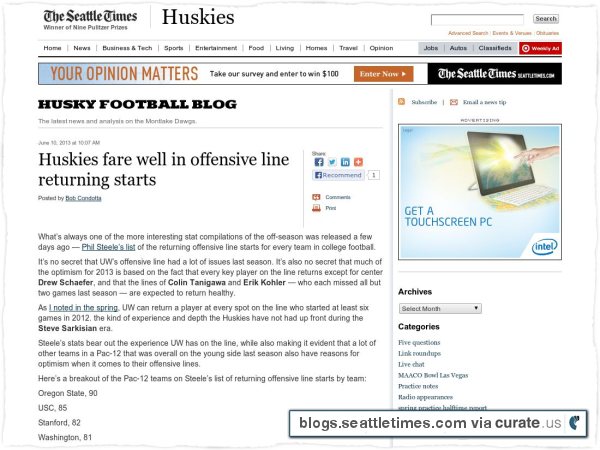 In its countdown of the top-25 Heisman candidates, Saturday Blitz ranks Keith Price No. 23 and Bishop Sankey No. 24.
Pursuing the program's first Rose Bowl in 13 years would assuredly launch Sankey onto the national stage, as his contributions are integral to Washington's efforts…Keith Price's return to 2011 form is vital to UW contending for the Pac-12, which in turn is crucial to Sankey's Heisman candidacy.
Speaking of Bishop Sankey, With The First Pick breaks down his draft stock. Peter Smith says he's a top-100 pick right now, with the potential to become a top-50 one.
He is an extremely natural runner and if he can continue expanding his game to make him a dual threat as a receiver and a serviceable blocker, he has a chance to make a huge impact for the Huskies this year but also in the NFL whenever he decides to make the leap.