 Good morning, Husky fans. For the first time ever, I'm posting this from lovely Snohomish, WA, rather than Phoenix! It's good to be back home and I was nice enough to bring back some Arizona weather, apparently!
With the news of Bob Condotta moving to the Seahawks beat for the Seattle Times, Ryan Priest of UW Dawg Pound wrote a farewell to Bob.
Sadly, as the young inevitably discover and the old have already learned, all good things must come to an end: On Thursday, the Washington faithful's beloved reporter announced that he'll be moving his day job from Montlake to the VMAC to take over the Times' Seattle Seahawks beat.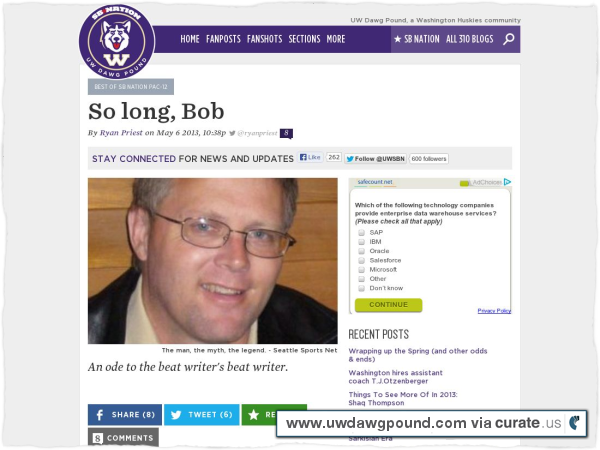 Good job, guys, you've made Coach Sark the most followed coach in the Pac-12.
At the time of

Hines' publication

, UCLA coach Jim Mora was the leader of the league's coaches in number of followers. But he's since dropped about 6,000 followers (rough weekend), meaning Washington's Steve Sarkisian is the leader.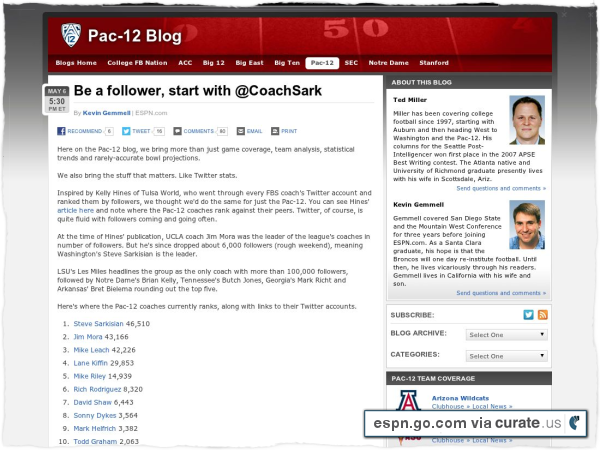 The Daily released its Pac-12 baseball power rankings. UW ranks No. 8 (and ASU is criminally low at No. 5)
[The Huskies] won Saturday to clinch the series. The UW is now 7-4 over its last 11 games as the early-season struggles appear to be in the rearview mirror.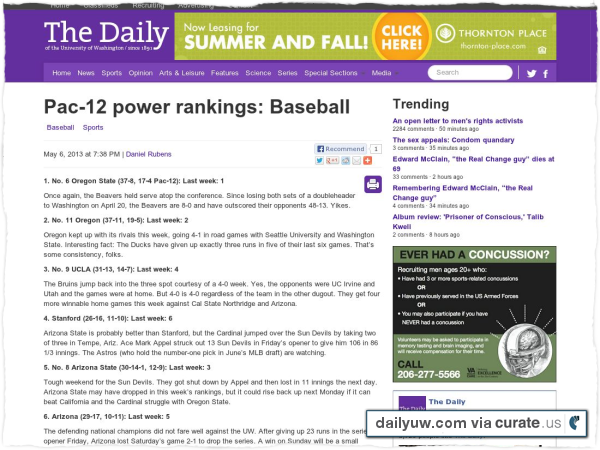 The Big Ten Network broke down Illinois' schedule and said its toughest non-conference game would come against the Huskies.
The Huskies lead the series, 5-4, but the teams haven't met since 1972, when U-Dub was led by quarterback Sonny Sixkiller and took a 31-11 victory in Seattle. Washington also won in Champaign, 52-14, in 1971.