 Happy Friday, everyone!
With the news of Marv Harshman's recent passing, Ben Knibbe takes a look at the history of Husky coaches.
Since [Marv] Harshman, UW has seen four separate coaches walk through the doors of Hec Ed with the title University of Washington Head Men's Basketball Coach…With the recent passing of Harshman, it seemed like an appropriate time to look at the history of Washington Basketball by coaching era. Washington has had 19 coaches in its history.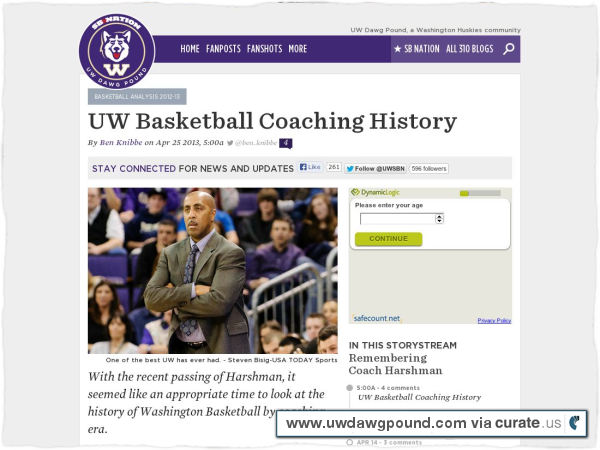 As I am sure you all know, Desmond Trufant was drafted by the Falcons yesterday, but how did he spend draft day?
In 2003, the Trufant family held a draft party for oldest son Marcus Trufant in downtown Tacoma…Fast forward 10 years later, and Lloyd and Constance Trufant are doing the same thing today for youngest son Desmond Trufant, who's expected to be selected in the first round of this year's draft.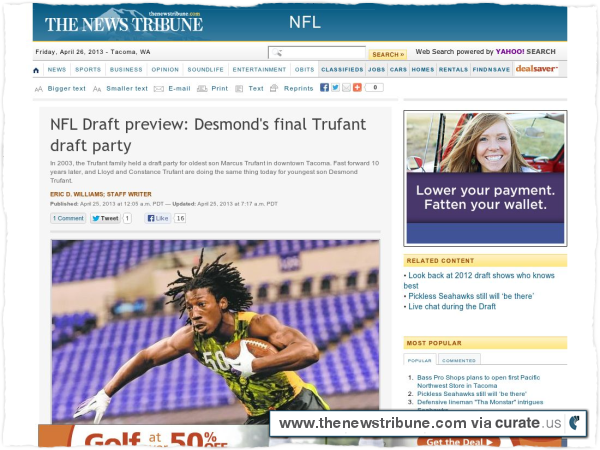 Percy Allen was at Trufant's draft party and provides us with some video during and after.
It was a nervous and festive night for Washington cornerback Desmond Trufant who had to wait 2 hours and 40 minutes during the NFL draft before the Atlanta Falcons selected him with the 22nd pick…Falcons coach Mike Smith told reporters in Atlanta Trufant would compete for a starting spot.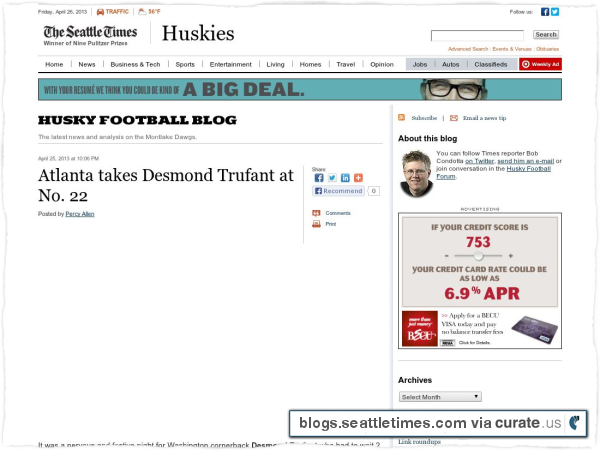 Athlon Sports ranks the top 20 running backs in the Pac-12. Only one Husky makes the list, but he's ranked pretty highly.
Leading the way is Arizona's Ka'Deem Carey, who should be a first-team All-American selection this year…Washington's Bishop Sankey quietly rushed for 1,439 yards last season and could exceed those numbers in 2013 with more help from his offensive line.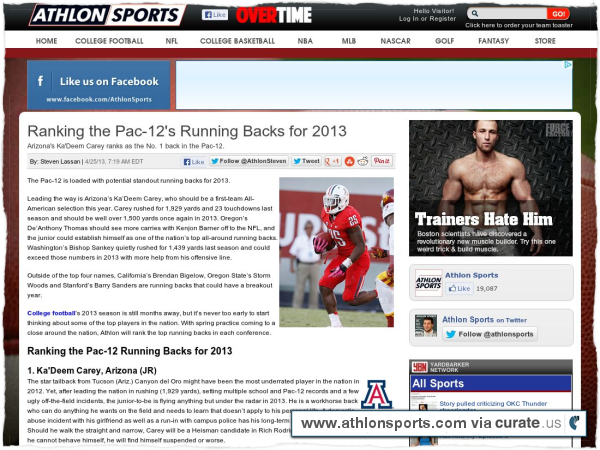 Tags: Basketball Football The Morning Haul Washington Huskies