 Good morning Husky fans! Anybody else meeting with the dean of his school to talk about a Seattle Times internship? I hope not (more competition!), but I hope something just as cool is going on today for you! Here's your daily dosage of UW links.
ESPN.com's Ted Miller continues to churn out some great stuff on UW, this one is concerning the improvements Justin Wilcox made on the Huskies defense and what the future of it holds.
With eight starters back and improving depth, as well as a year of seasoning under Wilcox's coaching and schemes, Washington should take another step forward in 2013. It has two big questions: 1. Improving the pass rush…2. Replacing cornerback Desmond Trufant.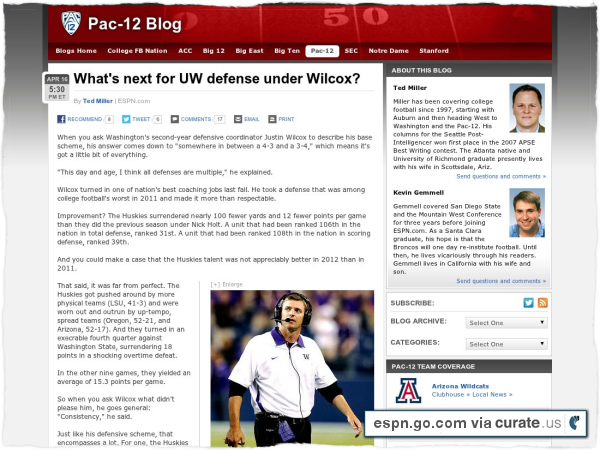 In case you missed it, Ohio State stole UW women's basketball coach, Kevin McGuff, away. Here is Jayda Evans' report on it.
At Washington, McGuff quickly signed talented recruits. In addition to Plum, McGuff signed post player Chantel Osahor and guard Brianna Ruiz for next season. The school isn't expected to announce any more signings for the 2013-14 season. It's uncertain if players will request a transfer, however.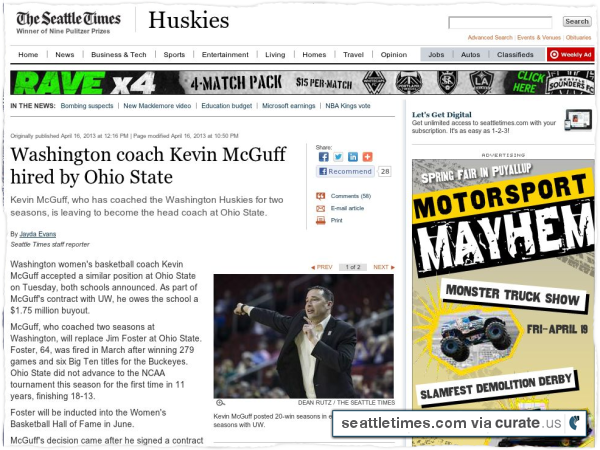 Finally, Jon Wilner makes his (way too early) 2013-2014 Pac-12 basketball predictions. Spoiler: You won't like what you read.
The Huskies lose three of their best players and are counting on a freshman, Nigel Williams-Goss, to run the team. If he's as good as billed — the best prep point guard in the west — and C.J. Wilcox continues to score consistently, UW should be in the mix.