by: John Chase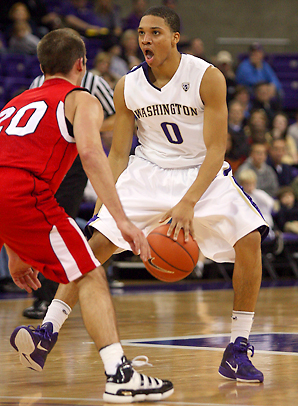 The 2011-2012 season has been over for some time now. Our two stars have declared early for the NBA draft and Lorenzo Romar seems to be done recruiting for next season. The Dawgs have added two new names to the roster, though one will likely red shirt this season as per NCAA regulations regarding transfers.
So what can Husky fans expect out of next year's team? It's a bit hard to tell at the moment, especially in light of last season's less than stellar outcome. While the 2011-2012 team was young, but talented, the lack of depth may have ultimately led to the early season losses and the late season collapses. 2012-2013 looks to be loaded with much more experience and, hopefully, a much deeper bench that will allow Romar and staff to execute the type of high octane defense that has been such a staple of this program.
With seven freshman on last season's roster it is easy to see why the team may have struggled early on. Next season the roster will feature two redshirt freshmen, five sophomores (four if Austin Sefarian-Jenkins does not return), one redshirt sophomore, two juniors, and four seniors (though Perry Blackwell will be redshirting). Now I must state that experience does not always equal talent, but it certainly is not a deterrent.
Only two incoming players will have had zero experience with Romar's program and both players are experienced college ball athletes. Along with the preseason trip to Europe and Africa, this team should be a much more prepared unit than the 15 guys that took the court against Seattle Pacific University in early November, 2011.
The biggest question is most certainly "Who will replace Terrence Ross and Tony Wroten?". With Scott Suggs returning from his medical redshirt season, it is easy to imagine Suggs slipping right into Ross' starting possession and immediately make a positive impact. Suggs was our most consistent 3-point threat in the 2010-2011 season and he appeared confident in his shot throughout the exercises in the pregame warm-ups. Suggs has a chance to be one of the leagues leading scorers if he can not only knock down his jumper, but also drive the line with regularity to keep the defenses from cheating out to cover him.
C.J. Wilcox also has the potential to jump into the starting 5 with his excellent outside shooting. At times, Wilcox was a streaking shooter hitting either all of his shots or none at all. There is no stopping Wilcox once he gets hot, just take a look at the 2009-2010 game against UCLA for proof.
I should also throw the new Husky's name in here, Mark McLaughlin. While I have seen very little of his game outside of the occasional highlight video, McLaughlin is another tall wing with excellent scoring abilities. McLaughlin could provide excellent 6th man support, much like Wilcox this past year. Who knows, McLaughlin may turn out to be a better scoring threat than either Suggs or Wilcox, though my money is on the later players.
As for point guard production, the majority of the burden will fall upon Abdul Gaddy who is still struggling to live up to the hype set before his freshman year. Gaddy showed much more aggressiveness in the final stretch, but it proved to be too little too late. Gaddy is a well controlled guard with great court vision who, unlike Wroten, can see his teammates on the perimeter while attacking the lanes and is very comfortable kicking it out for an open J. Gaddy needs to be willing to move inside the paint and drop in the teardrop over the opposition frontcourt or simply bank his shot off the glass into the rim. When Gaddy executes inside, it looks all too easy and often leaves me wondering why in the world he doesn't attempt such things more often.
With next year's starting five likely featuring two outside threats versus two point guards. We may see more driving shots from whoever is at the 1 position as the defense spreads to covers the 3-point threat. I also believe that Andrew Andrews is in a position to provide stellar relief for Abdul Gaddy.
Andrews has shown to be a fairly solid outside shooter and is also known for having great speed and passing abilities. I've been told that Andrews has come out of practices looking like the best point guard on the court. We can only hope that these rumors are true. Hikeem Stewart can also improve his impact on the game by spending the summer with a shooting coach. As it stands Stewart is a 1-dimensional player without much of a shooting game, making it far too easy for opponents to simply sit back and let Stewart jack up shots that will never fall.
The second question the Huskies will have to address is "How will the frontcourt perform?". In many ways, this is a more important question than replacing Ross and Wroten. Players almost always step up their offensive production when called upon to do so and considering the holes our team needs to fill is in our deepest position, well we as fans shouldn't stress ourselves too much in that regard.
The Huskies lose Darnell Gant to graduation, leaving Aziz N'Diaye as the only major minute grabbing big man. Desmond Simmons will pick up most of Gant's minutes as Simmons proved himself to be an amazing rebounder and hustler whenever he got into the game. Simmons did hit the proverbial freshman wall late in the season, but the fact that it took so long to occur is a testament to the work ethic Simmons possesses. I believe that Simmons and N'Diaye will be responsible for most of the dirty work off the glass, but expect some support for our outside guards.
The Husky frontcourt will also add in 6'10 redshirt freshman, Jernard Jerreau. While Jerreau is still built like a beanpole, he has put on weight since arriving to the UW campus. Another summer of working out will hopefully see an additional 10 or 15lbs of muscles added to his physique. The frontcourt should also see reasonable production from Shawn Kemp Jr and Martin Breunig, both of whom showed potential on the offensive side of the ball. Their defensive lapses is what likely kept both players from receiving more minutes throughout the year. I am a big fan of Breunig. During his limited playtime, he really impressed me on the offensive end and I like the way he executes. I also enjoy Kemp Jr. dunking the ball next to the rim, rather than trying to lay it in as N'Diaye so often does.
So can the frontcourt establish itself as a respectable threat such that our backcourt benefits? I would say…yes. The Husky frontcourt will not be one of the top in the nation, heck it likely won't be one of the top in the conference (see: UCLA for frontcourt depth). What the Husky frontcourt will be is a reminder for teams that the pick-and-roll still exists, that cheating out to the perimeter leads to easy dunks and lay-ins, and that dropping the ball inside to our big men is not any less effective than hitting a 15 foot jumper.
Last season our frontcourt averaged only 28% of our points, I'd like to see that number jump to 35%. Our team relied far too much on backcourt production last season and that wears down players quicker than one might imagine. Sure, we managed to score nearly 80 points per game, but our defense suffered from the effort required on the offensive end. If the post can establish themselves as a scoring threat, the perimeter players will not be asked to run off of so many screens or cut across the baseline as often. I'm not saying those things should stop by any means, but if we can get a nice pass to the block for a 1-on-1 situation, our frontcourt should be talented enough to score a majority of the time. N'Diaye has really begun to put together some solid post moves that are near impossible to stop at 7 feet tall.
Overall, I would say this team may be slightly more consistent than 2011-2012, but I fear a similar post season outcome. UCLA and Arizona look very dangerous with some very talented freshmen joining their respective teams. Stanford also looks to be a threat, losing very little from last year's NIT championship team. What this means for the Huskies is with a successful non-conference season of their own, the Pac-12 could finally start making a return to dominance in the NCAA tournament.
At this point, I would predict the Huskies to finish in 3rd, maybe 4th place, with a 12-6 or 11-7 record. As the season draws nearer and more information begins to come out from the various camps and practices, I'll speculate more on how each individual Pac-12 team should fair in the coming season.
Go Dawgs!
Tags: Andrew Andrews Aziz N'Diaye C.J. Wilcox Desmond Simmons Hikeem Stewart Jernard Jarreau John Chase Mark Mclaughlin Scott Suggs Terrence Ross Tony Wroten