by: Griffin Bennett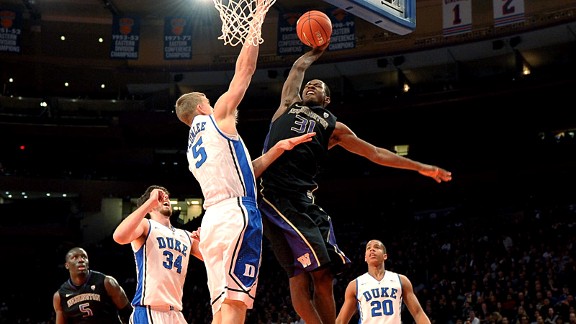 It's a sad day but we can't say that we didn't expect it. He has elite skills at a position (two guard) that is lacking in the NBA these days. He was lightning in a bottle and put on some amazing shows while here at Montlake. He single-handedly won multiple games this year as well making a key contribution to last years amazing run into the NCAA tournament.
While he still has more to learn, it's not like he can't learn them in the league. There's a lot to love about Terrence Ross if you are an NBA GM. His smooth jumper and ability to finish a the rim, as well as above it, make him a very intriguing prospect. He has had NBA comparisons to James Harden, J.R. Smith, Nick Young, and many others.
I think he still has a bit more to learn but he could definitely contribute right away off of the bench for a contender. He may not be mentally ready to surge onto the scene like Roy or Thomas but his skills certainly match them.
I had the opportunity to spend a day with Terrence early this year and I can say that he is incredibly humble and I trust that he made an educated decision which was the right choice for him.
He will be greatly missed next season but we all will enjoy watching his progress in the NBA.
Tags: NBA Terrence Ross