Northwestern University (Private– Research Institution)
Mascot: Wildcats
Location: Evanston, Illinois
Enrollment: 19,000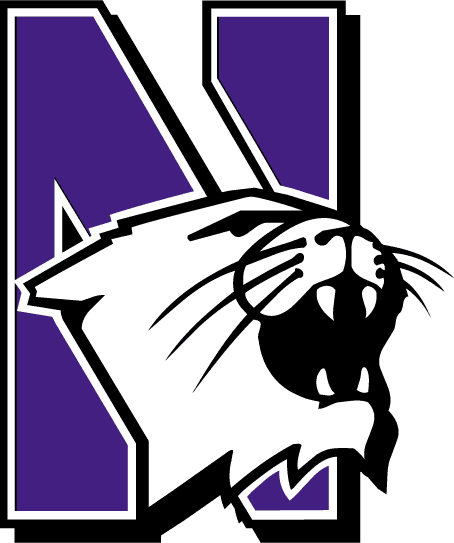 Current Record: 19-13 (8-10 in the Big-10 Conference)
RPI: 52 SOS: 19
Coach: Bill Carmody (12th season)
First Thought: The Northwestern Wildcats are no stranger to the NIT. This is their fourth consecutive trip. They were on the brink of making the NCAA tournament this year but their conference record didn't help them enough. They just weren't able to get over that hump that continually keeps them out of the NCAA tournament. This is a school that has never received a bid to the Big Dance.
Best Win: 81-74 win over Michigan State (RPI 3)
Worst Loss: 56-57 vs Illinois (RPI 84)
Last Game: 76-74 win over Akron (RPI 63) in first round of the NIT
Synopsis: Northwestern has no bad losses on their resume. In fact, they have one of the most impressive strengths of schedules in the country at 19. While they have no "bad" losses. They don't have any impressive wins besides their huge win over Michigan State. Their best win beyond MSU was to Seton Hall who has an RPI of 59 but also did not make the NCAA tournament.
This is just a case of a team that scheduled their season and competed in a conference that would allow them to play some big games but in all of those big moments they couldn't pull it off (suffice of MSU). Their big time games that didn't go their way were losses to Ohio State, Michigan, Baylor, Creighton, Wisconsin, Purdue, and Indiana. All of those teams are in the NCAA tournament and would have helped them possibly secure a bid had they won.
My analysis: The Wildcats have a squad that sees most of their scoring behind two men, John Shurna and Drew Crawford. And 3 of the 5 starters have started this year for the Wildcats: Shurna, Dave Sobolewski, and Reggie Hearn. Crawford has started in 31 of 32.
John Shurna- is probably one of the most impressive big men in the country. He is 6'9, 215 pounds but has the highest three point percentage on his team at 43% and that is on 209 attempts. He averages almost 20 points, 5 rebounds, 3 assists, and 2 blocks a game. He is the go-to-guy for Northwestern and he is hard to guard as he plays inside and out and is most comfortable with the ball in his hands.
Dave Sobolewski- is an impressive guard that averages almost 9 points a game. He also picks up 3 rebounds and 4 assists a game. He can also shoot the three and is 36% on the year from behind the arch.
Reggie Hearn- plays the least amount of minutes out of the starters. He averages about 25 minutes a game but in that time he is able to score 7 points and get 4 rebounds. He can also shoot from downtown as he is shooting nearly 40% on the season.
Drew Crawford- the other big time scorer besides Shurna for the Wildcats. He averages 16.4 points a game. He shoots a lot of three-point shots, 146 on the year and is 41% from 3. He also contributes by grabbing 5 rebounds a game.
The Wildcats love the three point shot. As a team they have attempted 747 shots from deep and have converted 288 of those (38.6%). They are 8th in the nation in three point shots made, 22nd in attempts, and 24th in percentage. The Huskies will need to contain the outside shot or this could turn into a shootout.
My Prediction: UW 83 NU 79
The Huskies may go into the half with Northwestern ahead because of defensive struggles. But if they are able to adjust and contain outside shots, rebound the ball, and control their fouls, the Huskies will win this game.
Tags: Bill Carmody Game Day Preview Huskies John Shurna NIT Preview Northwestern NU UW Wildcats