by: Griffin Bennett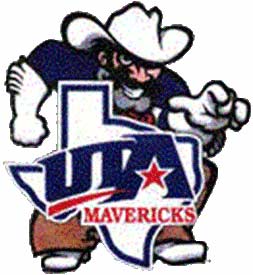 You learn something new everyday, it seems. On Sunday I learned that there is a college team named "University of Texas-Arlington". They are the "Mavericks" and they play in the Southland conference which sports teams like Lamar (who is dancing in the big one) as well as other favorites like McNeese St, Sam Houston, and Nicholls.
The Mavericks of Arlington come in with a 24-8 record overall and a 15-1 conference record (ouch, that sucks). Their best wins were over Lamar (91-82) and Kent State (74-73) while also losing to Baylor, Texas, and Tulsa in overtime.
Do you want anything more on them? Basketball isn't even their most popular sport. Here's a quote from their wikipedia page:
"Oozeball is a tradition hosted by the Student Alumni Association and Campus Recreation[to raise money for the Student Alumni Association Sophomore Scholarship… In Oozeball, students play volleyball in artificial mud pits. Since its creation in 1989 in the Greek Life community, Oozeball has become one of the most popular student traditions."
Oh, the 80's were so magical.
One thing that UT-A has going for it is that UW does not have a non-conference victory against a team with a higher RPI than them. UC Santa Barbara is at 117 and UT-A is at 109. If you want a reason why UW isn't in the Big Dance, that's it right there.
Now it should be obvious that I haven't seen one second of the Mavericks play this year so I'm basing this "analysis" off of their numbers.
With that said, their leading scorer at 17.8 ppg is 6'5 guard LaMarcus Reed III. He's a great shooter as he leads his team in 3 point percentage (39%) while also shooting 46% from the floor. My guess is that this will be Terrence Ross' match up.
Reed's partner in the backcourt is sophomore Shaquille White-Miller. He splits time with fellow point guard Cameron Catlett. They neither averages over 6 points or 4 assists per game. So, there's that.
At forward, the Mavs (I've already given them a nickname) have Bo Ingram and Kevin Butler. While each is only at 6'5, they average 12.7 and 10.9 ppg alongside 4.2 and 5.8 rpg, respectively. They don't have a true power forward on their squad, much like the Huskies. Also coming off of the bench is 6'6 forward Brandon Edwards.
At center, they have 6'10 center Jordan Reves. He averages 9.2 ppg and 7.8 rpg. It seems like a good match up for Aziz N'diaye underneath the rim.
Overall, it seems like a good size and skill match up for these Huskies. No power forward? Check. No attacking point guard? Check. Sounds good, right?
Starting Line Ups:
UT – Arlington
Shaquille White-Miller, 5'9 165lb
LaMarcus Reed III, 6'5 200lb
Kevin Butler, 6'5 210lb
Bo Ingram, 6'5 195lb
Jordan Reves, 6'10 240lb
Washington
Abdul Gaddy, 6-3 185lb
Tony Wroten, 6-5 205lb
Terrence Ross, 6-6 195lb
Darnell Gant, 6-8 230lb
Aziz N'Diaye, 7-0 260lb
Keys to the Game:
Turnovers – The Mavericks struggle with turnovers as their point guard play is not best. If the Huskies can get good on ball defense on they might be able to take advantage of that. On the other hand, UT-A is 11th in nation in opponents turnover percentage. That's really good.
Offensive Rebounding – The Huskies rank 17th in the nation good at this. The Mavericks are very good effective at it too as they fall in at 31st in the nation. Which ever team can corral the most second chances will have a large advantage here.
Motivation – There's not doubting that UT-A will be up and ready for this game. The true question is whether or not the Huskies over being upset and willing to take this game seriously. If I was a player, I know I would struggle with getting mentally prepared.
Free Throws – The wound is still fresh on this one. I'll just leave it here.
Prediction:
I don't want to be too confident about this one. I've been hurt too many times by this Husky team. I am seriously concerned whether or not they will show up Tuesday night. I know that they said they are ready for the game, but seeing is believing. If they don't even show up for the first half of a Pac-12 tournament game, how can we know that they will show up for an NIT game?
On the other hand, I have faith in my Huskies. I have faith that they will rebound from their mistakes and use this NIT tournament to try and exorcise their season-long demons. I'm a glutton for punishment and I see the Dawgs going far in this postseason. Why not? It's only Husky basketball, right? UW 77, UT-A 64. Bow Down.
Tags: Aziz N'Diaye NIT Terrence Ross Texas-Arlington Tony Wroten