by: John Chase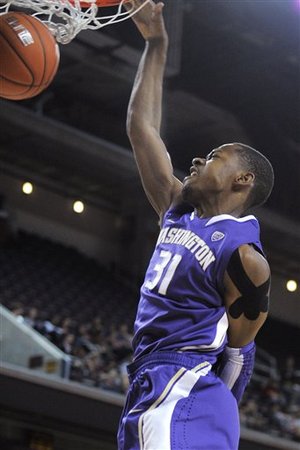 This game went pretty much how it should have. UW came to Galen Center and stomped around a decimated USC team. Just like that, the Dawgs secure at least a share of the conference title for the second time in 4 seasons and some sort of conference title for the fourth straight season.
The Huskies started with a nice run, quickly jumping the lead up to 8 points before going into half with a 17 point lead. The Dawgs were a tad sloppy in the start of the second half, allowing USC to pull within 9 before going on another huge run to put the Trojans away for good.
Production came from different sources today. Tony Wroten had one of his coldest shooting nights of the season, hitting only 2 of his 13 attempts. He did manage to find success elsewhere by playing shut down defense and cleaning up on the glass. Wroten finished with 7 points, 8 rebounds (4 offensive), 6 assists, 2 steals, 1 block, and 4 turnovers. Not his best night, but I would not categorize it as a bad one either. Wroten successfully shut down Maurice Jones and found his teammates for better shots. The only bad part about his night is that it certainly complicated the Pac-12 Player of the Year award a little more. Hopefully the coaches don't split their votes between Wroten and Ross thus allowing an outside candidate to take home an undeserved award.
Darnell Gant had one of his better performances throughout his career. Gant drilled some nice 3-point shots throughout the night and finished just under a double-double with 14 points and 9 rebounds. Gant was 6 of 8 from the field and 2 of 3 from deep. Hopefully his inspiration and motivation continues through the weekend to give us an additional weapon against UCLA. Loved the fire he brought and the intensity he rubbed off onto his teammates.
Abdul Gaddy continued to play aggressive basketball and boy do I wonder what has taken him so long to get this attitude back. He is so effective when driving the lanes. Gaddy either opens himself up for the easy basket or finds an open teammate on the perimeter for a solid jumper. Gaddy was 4 of 6 from the field and hit the only 3-pointer he attempted. Gaddy finished with 12 points, 2 boards, 5 assists, and 2 turnovers. Nice night, great performance, needs to continue this type of play.
C.J. Wilcox cooled off after his fiery performance against WSU. Wilcox was a measly 3 of 10 from the field, 0 of 4 outside the arc. Maybe his hip was acting up again because Wilcox certainly didn't seem to be himself. Wilcox bobbled two easy buckets at the hoop, one of which would have been a highlight worthy alley-oop from Wroten. The good part about the game was the lead allowed Romar to rest Wilcox, giving him only 24 minutes on the night. We certainly need his shooting skills against UCLA a lot more than we did against USC.
Aziz N'Diaye battled in the paint and came out the overall victor, in my opinion. While Blasczyk did finished with 10 points, he received 4 of those at the line and only managed to grab 3 rebounds. N'Diaye, on the other hand, had 8 points and 7 boards on top of one nice dunk. N'Diaye continues to be a force in the middle. He will need his A-game tomorrow against Josh Smith who was very successful against the Dawgs last time out. Speaking of N'Diaye, my friend Ted Copeland just posted this video from the UA game. Check Ted out on Facebook here. He does good work.
Desmond Simmons returned to better form against the smaller USC line-up. His shot selection was smarter and his aggressiveness in the paint was back to its old ways. Simmons finished with 5 points on a couple of nice put-backs and nabbed 7 rebounds. Simmons also had 2 steals to offset his 1 turnover. Love this type of production from Simmons, it is exactly what we need from him.
The bench got some decent play time tonight with everyone but Alex Wegner getting into the game. Not sure why Romar didn't put him in as well, but too late to worry about it. Martin Breunig had 4 points coming off of a last second, fade away 3-point jumper that drained somehow and also finished an alley-oop pass from Wroten to cap the night off in spectacular fashion.
Terrence Ross was the star of the night for the Dawgs. After foul trouble crushed Ross' ability to contribute against WSU, Ross returned in mighty fashion playing a full 40 minutes of basketball once more. Ross had 11 points at half time and finished with 18 after only 27 minutes of play. That puts him on pace for nearly 30 points in 40 minutes with that type of production. Ross was 8 of 13 from the field and hit 2 of his 3 from deep. Ross also put up 7 rebounds and 1 steal against 2 turnovers.Ross' crossover is really turning into a deadly weapon that opponents simply cannot defend against. He looks a lot like BRoy on the court. 17 different NBA teams had scouts at the game and one can only imagine that Ross was the focus of their trip.
What Needed Improvement:
Free Throws – What saved the Dawgs in Pullman had a chance to bite them against USC. The Huskies were a miserable 12 of 23 from the line and this allows the Trojans to close the lead at times. Tony Wroten looked ugly at the line, consistently shooting wide and rattling the ball around. Wroten went 3-7 from the line. Not one person was perfect from the charity stripe and even infallible Wilcox was only 2 of 4 from the line.
Defense – This may seem odd at first, but hear me out. The Dawgs didn't really shut down the Trojan offense. The Trojans average 54 points per game and finished with 58 because the Huskies like to push the tempo, allowing more shots for USC. The Trojans shot a very respectable 45% from the field and 30% outside. The Dawgs only forced 8 turnovers of which 5 were steals. The Dawgs didn't pressure USC into uncomfortable situations where the players would throw the ball away. The Huskies were able to score so much more because they had nearly as many offensive rebounds (18) as USC had total rebounds (20). When you attempt 16 more shots than the oppositions, chances are you will win. As I said in the pre-game write up, the Dawgs average somewhere around 1.2 points per possession, so 16 times 1.2 gives just under 20 extra points. That 20 points is almost exactly the amount we won by. This is a concerning stat when one considers how much better UCLA is than USC. We cannot afford to let UCLA shoot 45% from the field because they will rebound unlike USC and will certainly score more. We have to play better defense tomorrow.
What Was Good:
Rebounding – Domination on the glass once again. The Trojans do not have the size or talent to compete in the paint with the Dawgs and this was reflected mightily in the stat line. The Huskies out rebounded USC 47-20 and allowed only 3 offensive boards for the Trojans. That is killer.
Ball Control – The Husky guards got it done pretty well and the team as a whole dished out 13 assists on 31 shots. Not bad. The 12 turnovers are respectable, but I'd prefer if we could keep that number at 10 or lower. The ball control and passing led to many open shots outside the arc and the Huskies capitalized with a 6 of 13 performance from deep. If you exclude Wilcox from the stat line, the Huskies were 6 of 9 from outside. Solid.
Final Thoughts:
The Dawgs did what they needed to to win this game. They weren't incredibly spectacular and had few standout plays. They play consistent, solid basketball and got the win they wanted and needed.
After the game their heads were in the right place. USC offered to do a post game celebration for the title if they wanted, but the Dawgs declined and instead kept their emotions in check, realizing the game on Saturday is just as important, if not more so.
I suspect the defensive issues will be addressed and kept in check tomorrow. The bigger issue, no pun intended, is how to shut down Josh Smith. Smith killed us last game and will certainly try to do one better this time around. The Dawgs need to get a good game plan going, maybe run some zone to prevent entry passes.
If the Dawgs win tomorrow, I believe they will have secured an at-large bid to the NCAA. Down year or not, the Pac-12 has always performed well in the NCAA, unlike the Big East, and a 15-3 major conference record is nothing to snuff at. I would much rather the team goes into the Pac-12 tournament and grabs that title as well to guarantee a bid. It will be a tough run, but this team is figuring things out and I am confident they can pull it off.
Go Dawgs!
Tags: Aziz N'Diaye C.J. Wilcox Darnell Gant John Chase Pac-12 Champions Terrence Ross Tony Wroten