Too many freshmen, Scott Suggs redshirting, CJ Wilcox's injury, there are lots of reasons to explain the struggles of the Washington Huskies this season. But, whatever the issues are, the team has been in disarray, underperformed, lacks cohesion and chemistry, and is on the cusp of missing out on the NCAA tournament, and maybe even any form of post-season play. While it's easy to look at the situation and just say it's one of those down years, the fact is, with better planning this all could have been avoided. Ultimately, the responsibility lies at the feet of Lorenzo Romar for not having better planning or recruiting strategies in the last couple of years. It isn't as thoughRomar inhereted a difficult situation here. He built this team and created the environment for the stuggles that the team has endured.
Unfortunately, as you look ahead to next year, there is not a great deal to be optimistic about if certain things fall the wrong way. The two best players on the team, Tony Wroten and Terrance Ross are both predicted to be near lottery picks if they enter the NBA draft. You can argue all you want about whether either of them is "ready" for the NBA yet. But, the fact is, the NBA drafts on potential and both of them have it. If millions of dollars are staring you in the face, it is awfully difficult to turn that down, regardless of whatever perceived weakenesses you may have. Just ask Spencer Hawes…
So, imagine what this team would look like next year without Wroten or Ross? Maybe they would be decent with a senior class of Gaddy, Suggs, and Aziz. Maybe CJ Wilcox would blossom into an unstoppable force. Desmond Simmons looks like a terrific talent who is getter better almost every game. On the other hand, we have not seen much evidence that our other big men are ready to take up the slack. Are you confident that Martin Bruenig and Shawn Kemp Jr. are ready to make the leap into actual contributors to this team? If Austin Sefarian-Jenkins, a football player not recruited to play basketball, can walk-on halfway through the season and in his first game contribute far more than either of the scholarship forwards have, it has to make you wonder.
Are you confident that Jernard Jarreau would come in strong enough and ready to make an immediate impact? Is Andrew Andrews the next Tony Wroten? And of course, unless Anthony Bennett shocks the world and chooses to come to a rebuilding club way up in Seattle, the redshirting players this year are essentially Romar's recruiting class for next year since he has no commits or even any known leans for the upcoming year. But, there will definitely be a scholarship to give with Gant graduating, so the question is whether Romar will fill it or keep it open for the pipedream that is the 2013 recruiting class.
But, let's focus now on where this team stands right now. Most people defending the situation the Huskies find themselves in right now focus on the fact that the Huskies are "young". They have 8 freshmen they say (although it's worth noting two of them are redshirting and two are walk-ons). But, while it is true that having so many freshmen may hinder Romar's ability to properly teach and intergrate his defense and may also result in issues of team chemistry and offensive efficiency, the bigger question you have to ask is…WHY does he have so many freshmen?
This whole dilemma actually began three years ago following the 2009 season. Jon Brockman, Justin Dentmon, Artem Wallace, and Joe Wolfinger moved on. The future looked bright with Brockman's heir apparent in Tyreese Breshers coming in, Elston Turner coming on strong, as well as, a strong group of upper-classmen. But, despite bringing in the #2 point guard in the country AbdulGaddy, Clarence Trent, and CJ Wilcox, the Huskies were left with an open scholarship when Charles Garcia did not make it past the admissions office.
Obviously, many were very upset about this at the time. But, in the end the admissions office at UW was vindicated in their decision when Charles Garcia went over to Seattle U, played great for half a season, started getting benched due to attitude and performance issues, stopped going to classes, rumors being his grades were terrible anyways, and decided to enter the NBA draft, with a subtle little nudge from Cameron Dollar and the SU administration. But, after not get drafted, he now toils in the D-league.
While Romar reported cried when he told Garcia he didn't get into UW, this is one you have to question Romar's judgement on. Wasn't there another talent he could have lured to UW? Couldn't he have found a big man who would now be a junior or senior this year and thus provide more of a contribution and upper-class leadership?
Nonetheless, Romar decided to leave that scholarship slot open and use it to enhance his next recruiting class. Except for the problem that that didn't work out so well either. Breshers retired, leaving a void that's been hard to fill. Sure, the Huskies brought in Terrance Ross, Aziz, and Desmond Simmons, but because Clarence Trent and Elston Turner decided to transfer, the Huskies were again left with another opening. Why did Trent and Turner transfer anyways? The perception was that minutes were limited and they would not get the chance to be the central focus of the offense. Ironically, the exact opposite has now happened and now Elston Turner is averaging 31 minutes per game at Texas A&M instead of being the senior captain of a depleted Huskies squad.
And while Clarence Trent is not exactly lighting up the scoreboard, he did sit out last year. What kind of player would he be as junior this year with that extra year of experience? But, one also has to wonder what if Romar had used that scholarship slot that was open for two straight years on a big man, even if a marginal Pac-12 talent. Where could this team be with that player being a sophomore or junior this year instead of a bunch of inexperienced freshmen?
What if Romar had gone more strongly for John Gage from Vashon Island or any number of players from California doing well like a Jamaal Franklin down at San Diego State or Joe Eberhard at Sacramento State? I am not saying these players would be the difference makers for the Huskies this year. But, they might have given the team a bit more stability up front, more experience, more of a presence down low, and critical depth to give Aziz a breather.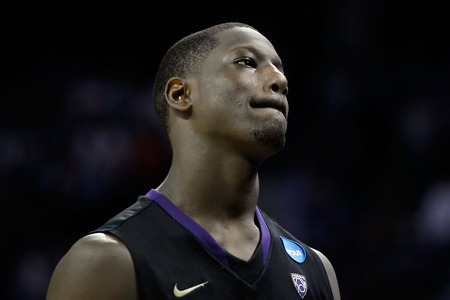 Now, in Romar's defense, he probably would have expected Darnell Gant to have developed some semblance of an inside game by his 5th year in college. Here is a player starting games as a redshirt freshman, yet he has never developed since then, never really gotten better. Sure, his 3-point shot improved, but that is not what the Huskies have needed from him for the last three years. The Huskies have needed him to develop an inside presence, a post move, a rebounding prowess. Gant never did that. Instead, he has chosen to drift out beyond the arc. He contributes, but is not a the leader this team has desperately needed.
When people wonder if Romar will ever be able to convince a big-time big man to come to Washington, all they need to do is look at what happened with Darnell Gant. He never got better inside when the team needed him to the most.
So, here we stand. With Justin Holiday and MBA graduating and I.T. going to the draft, suddenly the Huskies found themselves with a plethora of scholarship slots. But, Romar flailed about desperately seeking to find a big man to fill those shoes left by previous bigs like MBA, Breshers, QPon, and Brockman.
He went for a lanky 6'10" kid from Louisiana who apparently is more of a guard than a center. He tried and failed on other big men going from Angelo Chol to Norvel Pelle to God's Gift Achiuwe to Richard Peters to D.J. Shelton before they eventually settled on Bruenig and Shawn Kemp Jr. Yet, it seems like Romar just took them to avoid having more open scholarships again and with the hope one of them would work out. Maybe those two will eventually blossom into something special. But, for this year at least, it isn't working out.
So, the Huskies have been left with this troubled season due to a combination of bad luck and bad planning. A team who for the last 3 years was blessed with too many talented players to give minutes to finds itself with a rotation of just 7. Elston Turner left this team because of minutes. Clarence Trent left this team because of minutes. Now, the Huskies are having trouble finding enough bodies to give minutes to.
In Lorenzo Romar's quest to nationalize his recruiting and all-but-ignore the traditional recruiting base in California, he has missed out on opportunities to have veteran players on this roster right now who could have stopped this team from collapsing under the weight of its own inexperience and lack of cohesion.
Tags: Charles Garcia Darnell Lorenzo Romar Washington Huskies