by: Griffin Bennett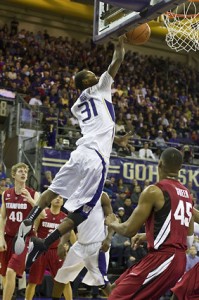 I spent last Wednesday following Terrence Ross through a typical off season day. Most fans, including myself, don't really know what these players do when it's not basketball season. In my mind, seeing how a potential star like Ross went about his life as a student-athlete during the end of his freshman year in college was a perfect scenario. I was able to film most of the day's events and as soon as I can edit it and put it all together I will post it on here.
First and foremost, I have to thank Terrence for allowing me to hang with him. He was incredibly nice and really appreciates all of us fans out there. He truly is a humble man and is almost unaware that he could be a future superstar. He seems to be almost embarrassed by the notion. The personal accolades don't seem to interest him but when he steps on the court he thrives on the competition of the game. He told me that coming to UW and playing with Coach Romar "just felt right. You know what I mean?". After being with him for just that short period of time, I totally know what he means.
Morning Workout:
It was 7:10 AM as I met Terrence outside Hec Ed for the first time. He seemed shy as we barely exchanged a full sentence before he led me into the depths of the arena and into the team's locker room. The room itself isn't as large as I thought it would be. It opens into a lounge area with a 50-or-so inch flat screen TV, purple couches, and two computers which are available to the players. Free fresh bagels from Noah's sat on the table and were available to the players for breakfast. The lounge led into the locker room which was even smaller. It sported very nice individual lockers with each player's name and picture framed on them. As I looked around the walls, they sported pictures of former Husky greats in action and a large John Wooden quote which stated ""Be more concerned with your character than your reputation, because your character is what you really are, while your reputation is merely what others think you are,".
Terrence was one of the first players to show up for the scheduled morning workout and each arriving player looked more asleep then the last. C.J. Wilcox almost ran into me as he was rubbing the sleep out of his eyes. Once dressed, the players went up to the north practice gym where they met with Strength and Conditioning coach Matt Ludwig. He led the team in some warm up drills which involved some standard stretches but soon developed into some unique exercise band routines. Everyone from the team had showed up to the early morning workout except Aziz N'diaye and Antoine Hosley. I don't know where those two were, but no one seemed shocked that they weren't there.
It seems that I had picked a good day show up for a workout as coach Ludwig was going to be testing each of the players' speed, jumping, and endurance before they left for the long weekend. Terrence told me that today was going to be the hardest day of the week and he did not seem very excited for some drill called "spider weave" or something like that. I followed the team out of the practice gym and down onto the main court inside The Hangar. Coach Romar, Fortier, and Shaw were there waiting to watch each of the players during their testing.
First off was 30 yard dash and each player was given two attempts to reach their fastest time. Ross' fastest time was 3.73 and seemed disappointed as he said he had ran a faster time once before. C.J. Wilcox ended the test with the fastest time of 3.44 and Romar seemed impressed. I should mention that Abdul Gaddy did not participate in any of these tests and walked up and down the steps of Hec Ed instead.
Next up was the standing jump and Coach Ludwig set up the measuring apparatus under one of the hoops. While not taking the player's heights into account, Ludwig wanted to see how high each player could jump. Terrence led off again and set the bar high as he reached 132.5″ (11.04 feet). Keep in mind that the players were jumping flat footed with no steps. Each player was incredibly impressive and even Brenden Sherrer was in the 130's. Not to be outdone, C.J. Wilcox set the highest team mark at 134″ (11.16 feet"). Afterwards, Romar had Wilcox and Ross measure their reach and Ross seemed to have close to an inch advantage. Wilcox was very impressive.
Then came the running jump. Each player was given an unlimited number of steps and was just told to get as high as they possibly could. This was a fun one. Terrence started off, keeping the same rotation, and got all the way up to 140″ (11.66 feet). Ross was at a disadvantage with going first as he tried to treat the jump as he would a dunk but the strategy didn't seem to work the same. If it was a hang time competition, Ross was easily the winner. Wilcox hit 139.5″ and you could tell that Ross and Wilcox had a real rivalry going. They would joke and make fun of each other at every turn. Gant, as the tallest player there, set the highest mark at 143″ (11.91 feet).
Finishing off the jumping section of the test was the long jump. Ross jumped a 102″ which he seemed angry with. Wilcox, the star of the day, set a team high at 115″ which he was very pleased with. Desmond Simmons, who had been wearing a knee brace all morning, only jumped once and then decided against a second attempt.
Off to the box run, which was an agility drill where a player would start at one corner of a box and run forward to the first cone, then shuffle left to the second cone, back peddle to the third, shuffle right to the fourth, and then repeat the steps backwards to the beginning. Ross had the only sub-10 second time with a 9.83 and easily passed my eye-test. Watching Branden Sherrer attempt the drill had some of his teammates laughing as he kept knocking over cones.
Lastly was the dreaded "spider something" drill. I never got it's full name but no player was excited to attempt it. It was an endurance drill where players had to run almost the entire length of the court back and forth as many times as they could in six 30 seconds intervals. In between each 30 second period would be 30 seconds of rest. The group of 6 players that were participating broke into 2 different groups, forwards (Gant, Sherrer, Simmons) and guards (Ross, Wilcox, Suggs). Ludwig wanted to see where the players' dropped off in conditioning as he would note each player's number of trips back and forth during each interval. I'm sure that was difficult to read as I could barely make sense of it as it was happening. While their individual times don't really make any sense to us, the coaches seemed happy.
With the workout over, Ross asked me for the time and after I told him that it was 9:15. He looked at Gaddy and said, "We're gonna be late,". They had class at ten.
Time for Class: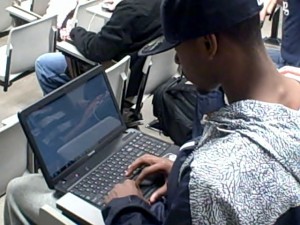 I followed Ross and Gaddy to their class in the Architecture building, which as some of you know is on the other side of campus from Hec Ed. They got there just on time and got settled down for a 2 hour lecture. As a recent graduate myself, I had no intentions of sitting in one more two hour lecture ever again. I left the two sitting in class and planned on meeting up with them just before their afternoon practice. Ross had another hour-long class at 12:30 before a daily session with his academic tutor. With classes coming to an end in June he was preparing for his looming finals and was even working on some extra credit for another. He seemed to be working hard on his academics and told me later in our interview that his goal is to get his degree while at Washington. I believe him.
Afternoon Practice:
Similar to the morning session, I followed Terrence into the locker room and he told me that he was already late. He got changed quickly and ran onto the court where Aziz and Sherrer were working on post moves and Suggs was waiting for him to begin their shooting drills.
Suggs and Ross switched off shooting from different locations around the court. Ross started off cold but ended strong while Suggs seemed to be dialed in the whole way. Each make and miss were recorded by a team manager and Romar, Chillious, Shaw, and Fortier were all there to watch. It's a pretty pointless for me to comment much more on their shooting but both players have pretty shots and Ross' early struggles seemed to be the only thing to note.
After their shooting ended, Romar called the guards over as he set up a two-on-two pick and roll drill. Ross and Aziz were paired up against Suggs and Sherrer as they switched off taking turns working on running the perfect pick and roll. After every attempt, Romar would coach up each player and was always there to give encouragement and never once said a negative thing. It was always about building the players up and telling them how to improve. The man is truly a breath of fresh air in a world were people like him are few and far between.
After running through the drill a few dozen times each, Romar switched up the teams and picked up the pace. The competition immediately accelerated and they began to keep score at Romar's direction. The first team to three won and then they would switch sides of the court (left or right) where they started. It was very close each time and Sherrer definitely held his own against the much larger Aziz. While on the topic, I must mention that Aziz looks like a tank. He has added some serious upper body muscle and looks like the African Terminator. His game, however, looks identical. He still missed close shots and lay ups and would consistently make poor decisions. Baby steps, I guess.
Now the fun was about to begin. Sherrer had class and had to leave practice early. In a scenario that could have been a WWE plot, Matthew Bryan-Amaning came walking out of the tunnel dressed up in recently acquired NBA team swag. I was almost expecting The Rock's entrance music to start playing from the PA system. Maybe it would sound more like this.
MBA took Sherrer's spot and teamed up with Ross. MBA's energy instantly elevated the drill into a full fledged battle. Aziz vs. MBA. Suggs vs. Ross. It was great to watch. With the same rules as before, they battled to a tie before Romar called a huddle to end practice. Suggs wasn't having any of it. He demanded a rubber match and Romar granted his wish. The trash talking began and players began complaining about fouls. With it tied 2-2 in the third and final game, MBA set a pick for Ross who faked right and dribbled left and drained a three-pointer over Suggs to seal the victory. It was very nice to watch some Husky basketball again.
The players walked back into the locker room to shower up and dress. It had been a long day for Terrence and he just wanted to go back home and relax. I met him at his apartment a little later for an interview but I'll post that tomorrow.
I want to thank Terrence Ross and the entire Husky team for being incredibly kind and engaging. I also want to thank the coaches and especially Brian Tom of the athletic department for letting me watch, film, and interview Terrence for the day. Bow Down.