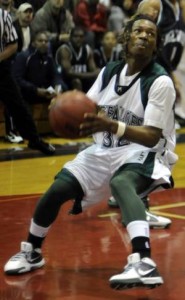 This will be one of several deep dive look ins at 2011 recruiting for UW. Let's take a look at one of Romar's best point guard prospects.
by Craig Yamada – Editor-In-Chief
Profile:
Height: 5'7"
Position: PG
Class: 2011
Location: Manteca, CA
AAU Team(s): Drew Gooden Soldiers
Interested Schools: Alabama, Arizona, Cal, New Mexico, Old Dominion, Oregon State, San Francisco and Washington
If you haven't seen Kiwi play, take a look at this highlight and also this one.
If you can recall watching some of AAU highlight reel clips of the Drew Gooden Soldiers, you always left yourself asking, who is that little dude that keeps feeding dimes to Jabari Brown? Meet Kiwi Gardner from Manteca, CA. Yes, your eyes are deceiving you. That is not IT with dreads in the picture above. Kiwi is actually his own person and a damn fine ball player at that.
Kiwi has flown under the national radar thus far as the bigger recruiting sites have not given him as much love as he is due. At 5'7", Kiwi is a well balanced mixture of both scoring and dropping dimes. He is quick, aggressive and explosive. Kiwi can split defenses in two as he penetrates and has an act for find the open man down low. Hands down, he is one of the best ball handlers I have seen in a while. His game reminds me of a hybrid of both Isaiah Thomas and Jerome Randle. You can see many flashes of Isaiah Thomas in the way he attacks the paint and the way he handles the ball. He has an act for poking the ball loose from his defenders and seems to be a good fit for UW's fast tempo style of game.
In a recent radio interview, Mark Oliver, the Director of the Oakland Soldiers, did nothing but confirm Kiwi's interest in UW as he mentioned that "Washington has great favor for Kiwi." He went on to praise his AAU point guard for his leadership and toughness. "[He] is the backbone of our team, a real leader. He's a team guy that makes others around him better." He added that "people to tend to sleep on Kiwi, but is [the player] that gives the Soldiers the spark that contributes to winning."
Kiwi leads the team in steals thus far this summer. Jabari Brown added that "Kiwi is a smothering type of defender that does not back down."
In the last interview done with Rivals.com, Kiwi spoke of Washington as "[his] favorite school. I like the program, I like the coaches. I've been up there for camp and I like the atmosphere. It reminds me of a smaller San Francisco, so it's cool." If he does land at UW, he looks to be IT's future successor as a hybrid PG/SG combo. With Venoy Overton graduating this year, UW will be in dire needs of a floor general and a spark coming off the bench on defense.
Kiwi has yet to receive an offer from UW, but is continuing to garner attention from several other schools as well. Old Dominion and USF have already offered, but he wants to play for a bigger name school. UW is believed to be in the hunt for other top PG prospects such as Jahii Carson (Oregon State de-commit) and five star rated Quinn Cook (Hyattsville, Maryland). And let's not forget about the home town kid, Tony Wroten either. Although many believe he is Kentucky bound already, I wouldn't bet against him staying home in Seattle to play for his home city. (More on all these guys soon). Cook sounds like a challenge to land as some have reported that his mother didn't want him playing across the country where she couldn't watch. Wroten, Carson and Gardner look to be UW's top PG prospects at the time being. UW seems to be holding out for Wroten's decision first and foremost before offering others. Welcome to a new recruiting roller coaster.
The Drew Gooden Soldiers AAU team is definitely becoming a hot bed of talent again as several 2011 prospects are beginning to generate recruiting buzz from this team: Jabari Brown, Kiwi Gardner, Nick Johnson and Kyle Wiltjer. The Soldiers also feature top prospects in the 2012 class with Brandon Ashley and Dominic Artis. Both of these guys look to be high on the Dawgs' radar for next year as well. Let's just hope Desmond Simmons can work his magic and build a pipeline from the Bay to the Dub.
Thanks for coming.
Tags: Craig Yamada Kiwi Gardner