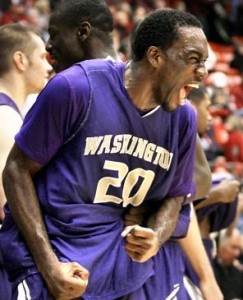 It was apparent last night that Quincy Pondexter was a man possessed during the Huskies' 80-70 win over San Jose State.
It was more than Quincy's 30 point, 15 rebound performance — it just looked like Pondexter was playing with a real chip on his shoulder. What was unclear until after the game was exactly why.
He spoke candidly during the post-game press conference about his feelings toward San Jose State guard Adrian Oliver, a UW transfer, and about his entire freshman class (Pondexter, Oliver, Phil Nelson, and Spencer Hawes), all of whom have left UW, except for Quincy, of course.
(on whether he spoke to Adrian much during the game): "I didn't talk to him nearly as much as I talked to Phil. Adrian, he got what he wanted. He got a school where he could score as many points as he wants. But, I'd rather be here where I'm at. We're winning games. He had 32. I got the win. I'm happy."
(on whether Pondexter and Oliver left things on good terms): "I can answer that now. No. We didn't leave things on good terms when he left. It just happened, y'know?"
(on whether he was disappointed that Adrian left): "I was disappointed the whole class left, starting from Spencer (Hawes). I thought if Spencer came back, and our team was back again together, working hard, a full summer, and knowing what the college game was like, I think we would've been fine. We won 19 games that year, us only being 18-year-old kids."
"We could have done so much more that year. We were a game or two away from winning 20 games and going to the tournament, I believe, that year. It was a heartbreaking year for me to see everyone go. And, y'know, everyone's in their different situation now — the situation that they picked, and the situation that they wanted to be, so I can't complain."
(on how recently he had spoken to Oliver): "I hadn't talked to Adrian from when he left that December — he left our apartment — I didn't talk to him a few weeks when he was staying there, and I didn't talk to him until two months ago. So, it happened. He's in a situation. I'm in my situation."
(on whether Oliver's leaving was the reason for the bad feelings): "Yeah, I think, I felt stranded, y'know. He left me as a teammate. He left me as a friend. He left me with the rent. . . (laughter). . . That was the last person I was close to, so it was really tough my sophomore year, because people bond to people that are in their recruiting class. You come in together. You're friends. That's how it was. And, our team wasn't as close, and I was kind of alone a lot of times. And, that next year, I bonded with Jon (Brockman) more. And, got the whole team together more, and it really helped us."
(on why Pondexter and Oliver spoke two months ago): "He called me. It's a funny story. There was a rumor going around that I got married. He called, and I was in my car driving. And, I thought I saw a 206 area-code number, but I didn't have his number, and I had just gotten a new phone.
So, I answered it, and he's like 'please don't say you got married.' And I was like, 'first of all who is this? I don't know.' And I looked at the phone again and saw it was a 209 area code where he's from, and he's like, 'it's A.O.'
I was like, 'man, if I'd have known it was you, I wouldn't have answered probably.' We talked. We just said, 'man, whatever happened in the past is in the past.' He's in a situation. I'm in my situation. We caught up, and we're good, so, I'm proud of him. He did a terrific job tonight."
Thanks for coming!
Tags: Jon Brockman Phil Nelson Quincy Pondexter Spencer Hawes