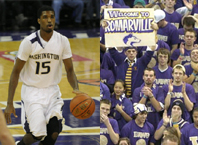 Scott Suggs was one of the men at the end of the bench for Lorenzo Romar last season, rarely seeing time with the game still in play. And, truth be told, not many fans would know what to expect from the 6'6″ guard this season, because they simply didn't see enough of Suggs last year to make a judgment.
But, this guy was the top player in Missouri as a high school senior, and the 15th-ranked shooting guard in his class. No one with that amount of success at one level wants to ride the pine at the next. So, succeed or fail, it would be foolish to imagine that Suggs isn't going to do everything in his power to make more of an impact this year.
I caught up with Scott this week and had a chance to get his take on the road to the regular rotation, and other thoughts on last season, and the year ahead.
Montlake Madness: So, last season, I imagine you didn't get on the court as much as you'd have wished. What can we expect from Scott Suggs this year?
Scott Suggs: You can expect to see me contributing to the team much more this season.
MM: What did you learn last year that's going to make you a major contributor this year?
SS: I just became more familiar with the system, and also more comfortable with a year of experience under my belt
MM: What was the biggest surprise going from high school to the Pac-10?
SS: Probably the amount of talent that each team has. Even teams that are not seen to be as good as others will still have pretty good players.
MM: So, you were a part of that group of Huskies that was getting up ridiculously early for a few months and practicing?
SS: Yeah. During the spring we were getting up at about 6:00 AM, and working out around 6:30. But in the summer we were working out at like 8:00 or 8:30 so we got a little bit more sleep.
MM: During the season, what's a normal day like, with practice, classes, etc?
SS: A typical day is workouts at 6:30am, class from about 9:00-3:00, practice from 3:30-6:30 or 7:00, and then tutoring from like 7:30-9:00. So, we have a pretty full day during the season.
MM: When I spoke to Artem Wallace last week, he said you were going to be a guy that surprised a lot of people this year. Let me ask you, did you ever have a conversation with Coach Romar last season expressing that you wanted to play more?
SS: Yeah, I talked to him about that a few times during and after the season, and he just kept telling me to keep working hard in practice. At the end of the season, i just talked to him about what i needed to work on and those types of things.
MM: And what did he tell you to work on?
SS: Defense, and continue shooting, and of course getting stronger.
MM: Which of your teammates has surprised you most this summer as far as improvement? Who's going to surprise people this season?
SS: Well, Darnell Gant's shot is really coming along, and i think teams are gonna have to respect his jumper. I also think Abdul Gaddy is gonna be a nice addition to the team this year.
MM: If the season started tomorrow, do you think Abdul starts at the point?
SS: Hmmm… i dont know. (laughs) We'll find out once practice time comes.
MM: No guesses? Personally, i love Venoy's energy off the bench.
SS: Yeah, he does bring a lot of energy. But i know that those guys are gonna be battling it out for that starting spot.
MM: Does any of that ever affect the way guys get along off the court?
SS: Nah. Everybody is friends off the court, but on the court we have no friends!. (laughs)
MM: How are you guys gonna beat Cal this year? They look like the biggest obstacle to the Dawgs repeating as champs.
SS: Yeah, they're returning all of their guys. I'm sure our coaches will have a gameplan for them — probably from day one.
MM: Tell me a little about Scott Suggs off the court. What's something the fans don't know about you?
SS: Well, I'm a pretty goofy person and i like to make people laugh.
MM: What do you do for fun in your time off the court?
SS: Just hanging out with my teammates really. Everybody on the team is pretty goofy actually.
MM: Do you guys on the team pay attention to who's being recruited? Guys like Josh Smith, Terrence Jones, Tony Wroten?
SS: I haven't really seen any of those guys play, but I've heard of them.
MM: What was it about Coach Romar and UW that made you choose the school, above the other prestigious colleges recruiting you (like Illinois, Missouri and Wisconsin)?
SS: Probably just the relationship I had with Coach Romar. I had been over to his house when he was the coach at St. Louis University. My dad's co-worker was his best friend.
MM: What's the one thing we wouldn't know as fans about life as a Division I college basketball player? What don't we see?
SS: The amount of work that we have to put in behind the scenes to be able to compete at this level. It's basically a full-time job because we are training year-round.
MM: One more thing. I've got a post up on my site right now about where I'd play all you guys if I were coaching the Husky basketball team in a football game. I've got you at outside linebacker.
SS: I'm more of a receiver, if i do say so myself. (laughs)
Tags: Darnell Gant Josh Smith Lorenzo Romar Player Interview Scott Suggs Terrence Jones Tony Wroten Venoy Overton